Well, it's been about year since I found this site and began enjoying the artwork everyone posts to the DCG. While I know it's not a year since i started posting art myself, I was at a loose end today so I thought I would have a go at the first pic i submitted.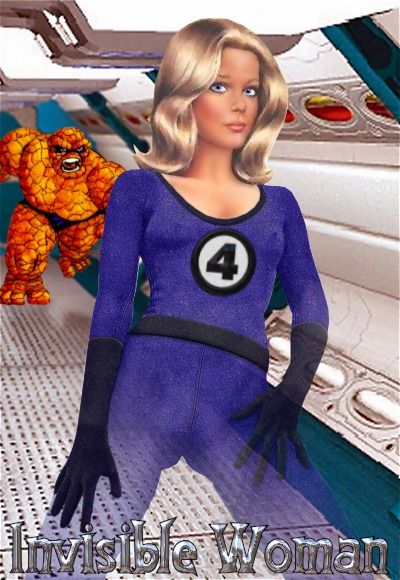 This time we see Sue Richards and everyones favourite ever-lovin' blue eyed Thing in a corridor on a Skrull ship. Starting with the same grainy 50s/60s cheescake drawing, first thing I did was smooth out the face, and the edges of her existing underwear. Her eyes were a bit smudge so I made some new ones. The costume was created using a faux-suede texture on various multiply colour and burn layers. The seams added using white lines on an overlay layer and a black line, together with a black line gaussian blurred on a multiply level for depth. The 4 logo was done from scratch using vectors. To create the gloves, collar and belt (or bottom hem.. was never quite sure) I desaturated areas of the texture multiply layer.
The background was found via Google, resized and cut to fit the dimensions i was going for. The Thing was from the gift i did for Squedge (using Squedge's own Thing sketch). I created a deeper rocky feel by adding additional rocky texture on a multiply layer. The shadow on the floor was created by flipping Thing, selecting the area, filling the shape with a gradient and applying a blur. this layer was set to overlay. I think the combination works with the angle of the background image. Suzies invisibility was done by using a graduated irregular mask to fade out the layer she is on. The font for the logo was downloaded from http://www.ffplaza.com/ check it out if you are at all interested in Fantastic Four.