Just keeping my hand in with manipping really. Here we have Marcus Schenkenberg (whom I've used before – see my 'Blink' piece) as a younger Man (Boy?) of Steel.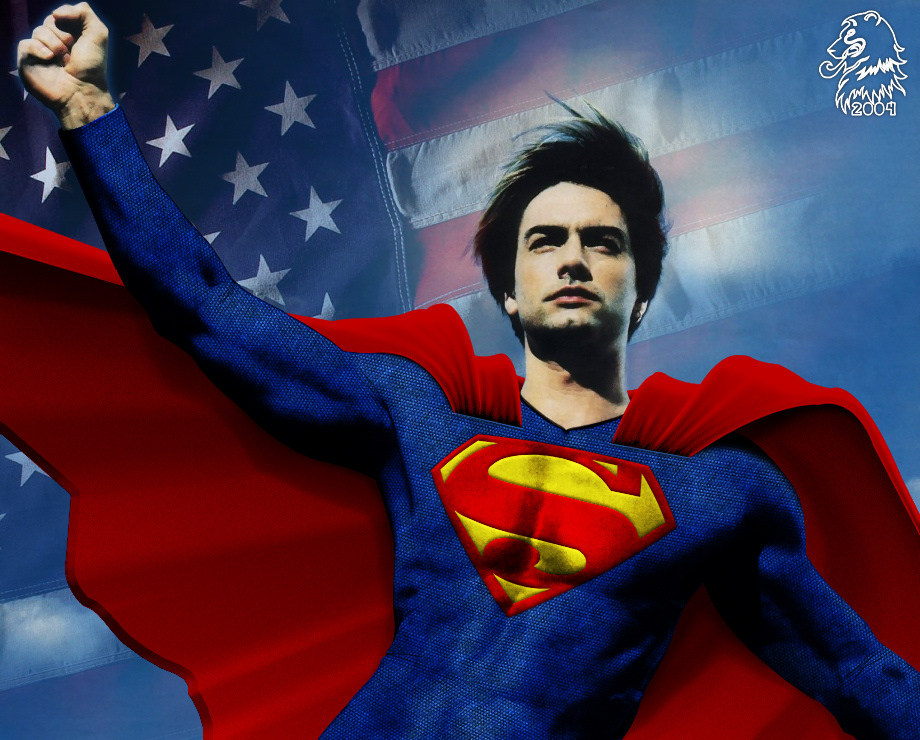 Had to do a fair bit of cleaning up on the original image as there was a lot of text to remove. The costume was made by first creating a composite texture made up from three separate elements – leather, faux suede, and chainmail (much reduced in size) – to try and give it some texture (similar to spidey's movie costume which I love the texture on the blue sections) Then I created a layer to apply the texture. Using the lasso tool to create appropriate areas, the texture is applied at various angles to match the body shape at that area. I then mask of the extra leaving the areas that would be the suit. Using the same mask I duplicate the original model layer, tweaking the muscles and smoothing/smudging where necessary. this layer is then duplicated again with the original layer's mode was set to multiply and the second layer's mode set overlay.
The logo was created from scratch in vectors a while back for another project, simply here reduced and distorted to fit the chest then used to create selections to apply the soft embossed feel. I tried to give the cape a believable flowing feel, not sure if I did, but I like how it turned out. It started with a solid block of color on a layer behind supes. Using the lasso tool I created gradually darker blocks of the red (using HSL adjustment) to give the feel of folds in the cape. The same method used to create supes shadow on the cape. Then used free hand soften tool to blend all the shades together. Over the whole lot applied a gradient fill to darken the cape further where it curves over the shoulder to light at the bottom.
The actual shoulder pieces are on a layer to the front of supes, again beginning with a couple of solid blocks of color. Used gradients, the lasso and HSL to create the tighter folds and wrinkles (where it's stitched/joined to the costume). Over the whole lot I introduced some granularity. This had the effect of giving the cape some texture post smoothing. blended in the flag in the background to further enhance the 'belief in something larger than yourself' feel.