Well this is the third of the characters I have created for the RPG. So should my Beast bit the bullet, and my Blink bleep off, my Punisher will pop up.;)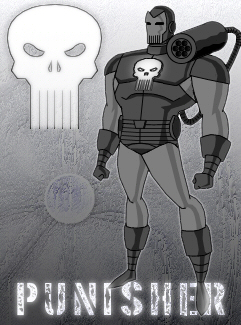 BIO:
Real name: Frank Castle (born Castiglione)
Occupation: Former United States Marine, Current Head of Security, Stark Industries.
Identity: Known to legal authorities
Legal status: Citizen of the United States, listed in Marine records (under Castiglione) as deceased.
Place of birth: Queens, New York
Group affiliation: Formerly S.W.A.T. (Strategic Warfare Assault Team), Avengers (Reserve), S.W.A.T. (Mk II)
Base of operations: Formerly South Vietnam, Currently Mobile, usually Stark Industries, New York City.
History: Frank Castle was a career U.S. Marine, who served five years in Vietnam. He was assigned to a special weapons field testing detail. It was while on this detail that he met Anthony Stark, an american inventor and industrialist. Stark was sent to Vietnam to supervise a field test for one of his tranistorized weapons. While he was there Stark tripped on a booby trap and a piece of shrapnel was lodged in his chest. Castle was knocked unconcious by the blast, and both he and the gravely injured Stark was taken captive by the Communist leader Wong-Chu.
Stark was informed that within a week the shrapnel would penetrate his heart and kill him. Wong-Chu offered Stark at deal: if he built the Communist a powerful weapon, he would allow Stark to undergo an operation to save his life. Stark agreed, hoping to gain time and access to tools. Stark was given access to a small laboratory in communist territory with another captive, the renowned Oriental physicist Professor Ho Yinsen. He claimed that Castle was his assistant and insisted that he be brought along as he was familiar with Stark's designs.
Wong-Chu denied this request, but sent Castle along to be held prisoner anyway, hoping to use him as an additional incentive for Stark to build his weapon. With Yinsen's help, Stark manage to convince their guards that he was indeed complying with Wong-Chu's wishes, however they secretly designed and built an electrically powered suit of armor and equipped with heavy offensive weaponry. The armor also contained pacemaker like device which enabled Stark's heart to keep beating after the shrapnel entered it.
Donning the suit, Stark connected it to its power source, an electrical generator. Lying on a table Stark was helpless until the suit was fully charged. His captor, Wong-Chu, sensed something was amiss and came to investigate with armed men. Realizing he was sacrificing his life, Professor Ho Yinsen went out to confront Wong-Chu, to give Stark the extra time he needed to charge the armored suit fully. As the Iron Man Stark avenged Yinsen's death and scattered Wong Chu's guerilla troops. Then, still clad in his armor, which was necessary to keep his heart beating, Stark freed the captive and badly beaten Castle, and made his way to the jungle, trying to escape communist territory.
James Rhodes, a pilot in the United States Marines who was stationed in South East Asia, had been shot down in the jungle nearby Communist rockets while he was on a reconnaissance mission. Rhodes managed to land safely and was attempting to get his helicopter air worthy when he encountered Iron Man and the slowly recovering Castle. After Iron Man help Rhodes fight off an attack by communist forces, Rhodes allowed him to drain helicopters batteries to recharge his armor. The three men attacked the jungle together, finally discovering a hidden Communist rocket base. Stealing an enemy helicopter, they destroyed the base and flew to the nearest American base.
Back in the United States, Stark redesigned his chest plate, which contained a pacemaker like device, reducing the chest plates size and weight so he could wear it under his normal clothing.  Required to wear this armored chest piece at all times to keep his heart beating, Stark decided to put to rest of the armor to regular use as well. After redesigning the entire armored suit to match the chest plate, Stark was forced to don his battle suit untested in order to prevent thieves from stealing his designs. This experience made him realize that the suit was too dangerous to me made available to the public.
Stark went to the government, with the idea of setting up a team of "Iron Men" who would be available for missions deemed to dangerous for standard troops. He concealed the suits true origin, as well as the fact that he himself had to wear the chest plate to live. Wishing to retain some degree of anonymity, Stark established the fiction that Iron Man was his paid bodyguard wearing a suit of armor that he had invented. Only his most trusted aides learned Stark and Iron Man were one and the same.
It was at Stark's insistance that Rhodes and Castle were picked to be the prototype team, called S.W.A.T. (Strategic Warfare Assault Team). The government assigned the team a liaison, Obediah Stane, to pass on mission details. Stark had already named "Iron Man" and encouraged the others to pick codenames for their armours. Jim Rhodes chose to become "War Machine" while Frank Castle, always the darkest of the three due to his experiences both in warfare and at the hands of Wong-Chu's torturers, took the name "Punisher".
At first the S.W.A.T team were involved in covert missions deep into communist territory in South East Asia. These mainly involved taking out heavily armoured and fortified positions, in order to allow US troops to advance. Over the next couple of years, however, the missions took on a darker tone, eventually becoming assassinations in all but name. Over the years Stark constantly refined and modified the design of his armors. From the bulky, transistorized Iron suits, Stark eventually built relatively lightweight, integrated circuit, magnetically polarized suits with more human looking articulated musculature. Stark's natural genius at theoretical mechanics has enabled him keep his suits of armor at the cutting edge of technology.
Stark eventually underwent a heart transplant so that he was no longer obligated to wear his metal chest plate. It was near the end of the conflict in South East Asia, that Stane ordered them to carry out what was to be their final mission as a team. They were given instructions to head deep into enemy territory, where the intelligence services had learned the enemy was attempting to construct a new deadly weapon. S.W.A.T were to go in retrieve any materials they could and destroy everything else.
Upon arriving at the designated co-ordinates the team immediately realised something was very wrong. What they found was a training camp, filled with american advisors, teaching the enemy troops american military strategy. Stane was trying to get the team to tidy up somebody's loose ends. The team refused to carry out the mission, and instead captured the camp intact, and handed the advisors over to the US Marine base for incarceration and trial. When they returned to their base, they found it had been cleared out and Stane was gone.
It was at this point the men knew that their war was over and they all returned to the United States and went their seperate ways. Stark took over his father's company, Stark Industries. At first Stark kept up the pretense that Iron Man was a paid emplyee, using his Iron Man identity only to combat spies and criminals who threaten Stark industries. Later, he expanded the scope of his alter ego's activities to battle any force or person who friend the security of America or the world. Stark was instrumental in the organization of the original world wide intelligence and law-enforcement agency known as SHIELD, and as Iron Man he became a founding member of the team of super human champions known as the Avengers. Stark donated his Manhattan mansion to the Avengers for their exclusive use.
Stark eventually decided for moral reasons no longer to manufacture armament and devote his company to other areas of technology. Rhodes returned to university and obtained several engineering degrees. He took up a position at Roxxon Oil Company, involved in testing the effects of experimental aviation fuel. It was while working here that he first head that Iron Man was back in action and where he first encountered Stane Industries, one of Roxxon's rivals. Frank Castle became a SHIELD operative, working undercover mostly seeking out evidence of industrial espionage.
It was just as Castle was learning to put his wartime experiences behind him thatObediah Stane came back into his life. After the war Stane had become an industrialist, and one who had no qualms about selling armaments to the highest bidder, including armaments that would have looked very familiar to Tony Stark – they were his designs. Stane had escaped any retribution for his actions during the war and indeed had used his knowledge and contacts to become very powerful indeed.
Frank managed to get a message back to Nick Fury of SHIELD with a request to pass this information on to Iron Man. Knowing some of the history between them, Nick complied and also took it upon himself to make contact with Jim Rhodes. Stark outfitted Castle and Rhodes with new versions of their wartime armours, the three sought out Stane. Stane himself put on a suit of armour his engineers had built using Starks plans and, together with his similarly armoured Dreadnoughts, met the Iron Men in battle as the Iron Monger. Ultimately losing his battle against Stark and his more advanced technology, Stane committed suicide rather than face trial.
Castle returned briefly to SHIELD and learned that before his death Stane, while calling himself Spymaster had stolen the plans for the many secret technological innovations in weaponry that Stark had devised but never implemented, including initial designs for future armours. Spymaster had then turned these plans over to Stark's most powerful and antagonistic business rival, Justin Hammer, who in turn, had made them available to many criminals. These criminals had then incorporated the stolen technological innovations into their own armored battle suits.
Outraged that his inventions were being used for criminal activity Stark determined to deprive these criminals of his secrets. Castle and Rhodes agreed to stay and help him and S.W.A.T. was reborn. Infiltrating Hammer's New York Complex, they planted a computer virus in Hammer's computer system that would wipe out all traces of the plans for Stark's Iron Man technology. As S.W.A.T., Castle, Rhodes and Stark sought out and caught many criminals and others (such as the United States government's black ops  Guardsmen) who wore battle suits utilizing Stark's technology, and implanted devices on their armor that rendered the suits useless.
With the stolen computer records deleted, Stark presumed there would be no further attempts to reconstruct the suits. In the course of these "Armor Wars" Iron Man accidentally killed the second titanium man (also known as the gremlin).  The United States government branded Iron Man as an outlaw as a result of these "supposed" vigilante actions, and Stark publicly claimed that he had fired Iron Man in displeasure over his illegal activity. Shortly afterward, Iron Man was apparently destroyed in combat with government forces. In fact, however, Stark had survived.
He created an even more sophisticated armored battle suit to wear as Iron Man, using technology far in advance over that which spymaster had stolen from him. Stark continued to go into action as Iron Man, but he publicly claimed that the previous Iron Man was dead and that another employee of his whose identity is being kept secret was now wearing the armored suit. Castle and Rhodes remained with Stark, taking up civilian positions within his company. Castle became Stark Industries Head of Security, and on occasion acted as Stark's bodyguard both in and out of armour. Rhodes became Chief Aviation Engineer and acted as Stark's personal pilot. S.W.A.T. continue to fight together as a team.
Iron Man, War Machine and Punisher have all spent time as Avenger's aquitting themselves well, although Rhodes and Castle found the rules and regulations to inhibitting. Punisher has also operated on his own while carrying out the odd assignment for Nick Fury and SHIELD. Castle retains his full SHIELD clearance which has proved useful on more than one occasion.
Details:
Height: 6 ft.
Weight: 200 lbs.
Eyes: Blue
Hair: Black
Abilites: Frank Castle possesses the normal human strength of a man of his age, height, and build who engages in intensive regular exercise. Castle is a thoroughly seasoned combat veteran of exceptional skills. A former U.S. Marine Captain with a distinguished combat record who has undergone SEAL (Sea Air Land) training, UDT (Underwater Demolition Team) training, and LRPA (Long Range Patrol) training, Frank Castle is well versed in the arts of warfare and hand-to-hand combat. Armed solely with conventional weapons, Castle has single-handedly incapacitated up to a dozen well-armed and experienced opponents in a single encounter and escaped uninjured.
Weapons: As Castle, constantly employs an arsenal of portable weaponry when on undercover missions. His most commonly used personal weapons are the Vietnam era M16 automatic rifle in.223 caliber; a Sterling Mark 69mm, 34-round clip fed, semiautomatic rifle converted to automatic fire; a 14-round, 9mm Browning Llama automatic pistol; a Government issue.45 caliber automatic frame re-chambered for 9mm ammunition with a replaceable barrel to convert it to.223 caliber ammunition; and a 4-shot derringer in.223 caliber (Thus, he needs to carry only two types of ammunition.)
Armour Specifications: Iron Man Armored, Flight-Capable, Environment Suit, Mark VII. Modified for Enhanced Combat Capability
Designer: Anthony Stark Major Contractor: Stark Industries
Armor Ext Dimensions: Height: 78 in. Width: 34 in. Depth: 21 in. Weight: 240 lbs.
Armor composition:
Surface/primary Layer: Molecularly aligned crystallized iron over a base of titanium nitride. Metallized paint is precise thickness to destructively interfere with RADAR band microwaves.
Secondary Layer: Comprised of various thermoelectric generators, temperature insulators and regulators.
Tertiary Layer: Consists of two independent, 'crimped' armature electric motors that are aligned at right angles to each other, which can simulate human musculature movement.
Special Features: Each layer possesses integrated communication, power-handling and control circuitry – with regions, which contain certain large area specializations, such as the simulation of a specific muscle.
Note: Suit's microscopic scale chain mail is made rigid by numerous computer-controlled magnetic beam generators. These generators can sense and amplify the suit wearer's motions and strength. Discrete networks of them are arranged, in conjunction with the full-body system of DC motors, to mimic the function of human musculature.
Armor Articulation Motivation – Musculature enhancement: The armor enables its wearer to lift (press) approximately 80 tons under standard operating conditions. Limits: When directly tapping a sufficiently potent power source, the armor can be boosted to Class 100 strength (able to lift in excess of 100 tons) for several seconds at the risk of having a total system seize-up.
Power Supply:
Type: High-density storage battery, AC/DC electricity.
Primary: Beta particle generator, creating constant current from passing beta particles that continually bombard Earth.
Secondary: Solar power converters, regrouped in microscopic ridges for improved collection efficiency, arrayed on shoulders and headpiece.
Tertiary (back-up): Increased efficiency of conversion of electric field potentials into usable electricity. Mark VII two orders of magnitude more efficient than Mark VI.
Armor System Controls:
Type: Automatic, computerized, body motion following.
Sub-Systems: Local networks of muscle groups and high-density computers, which control large scale movements such as walking.
Special Features: Armor is comprised of finely tessellated mail, which can minimize sudden compressions, such as a blow, by racially dissipating the energy throughout the suit. Articulation Seals/reinforcement: All magnetic. Due to microscopic construction, seal topology allows a 4.5-inch diameter wrist cuff (for example) to have a practical circumference of 12 inches. This allows for a greater area over which a magnetic seal can be affected.
Life Support: Range: High altitude to deep water: 130,000 feet above to 1,800 feet below sea level. Air Supply Duration: 1.2 hours Pressure: Normal atmosphere (14.7 pounds per square inch) maintained internally over a wide range of external pressures. Temperature: 73